Templine – Digital LED Temperature Display
---
---
Sensitive, responsive and accurate, our Digital LED Temperature Display is versatile and suitable for indoor and outdoor use.
Promote safety in manufacturing and warehousing, and provide eye-catching public service information in retail and local government. Templine is combinable with Timeline.
---
Features Include:
Hardwearing long-life solution
Simple to fit and user-friendly
High brightness and clarity
Can be combined with Timeline
Suitable for large sign cabinets or surface mounting
---
Contemporary & Unique
Templine incorporates the latest in LED technology to create a visually striking, bright and clear electronic display solution. High-contrast, full-height, broad-stroke digits available in a range of colours result in a unique font that is modern and attractive.
Versatile
Linnos signs can be incorporated into any larger sign project or used as stand-alone displays. This digital LED temperature display can be combined with Timeline to create an alternating display of time and temperature. This less static solution attracts even more attention and is suitable for indoor and outdoor environments.
Sustainable & Safe
Templine uses sustainable, energy saving LEDs helping to reduce your costs. Performing well in very low temperatures as well as high, makes Templine a much more reliable, safe and accurate solution to fluorescent rear illumination.
Durable & Reliable
Linnos digital LED temperature display products are made in Ireland using high quality components, solid state optoelectronics and durable aluminium casing guaranteeing reliability and low maintenance.
200 Series Specifications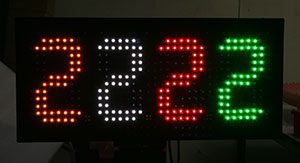 Digit height: 200mm
Case size: 670mm x 310mm
Distance of readability: 72 metres
Optimum viewing angle white: 65°
Optimum viewing angle red, amber, blue, green: 30° x 70°
Maximum power consumption: 16W
Average power consumption: 7W
300 Series Specifications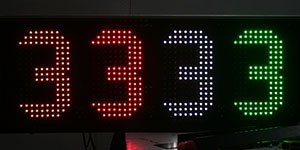 Digit height: 250mm
Distance of readability: 90 metres
Optimum viewing angle white: 65°
Optimum viewing angle red, amber, blue, green: 30° x 70°
Maximum power consumption: 34W
Average power consumption: 18W
400 Series Specifications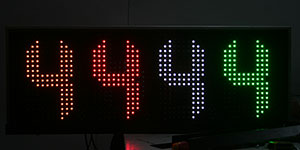 Digit height: 356mm
Distance of readability: 128 metres
Optimum viewing angle white: 65°
Optimum viewing angle red, amber, blue, green: 30° x 70°
Maximum power consumption: 45W
Average power consumption: 24W