Pharmacross – LED Pharmacy Cross Sign
---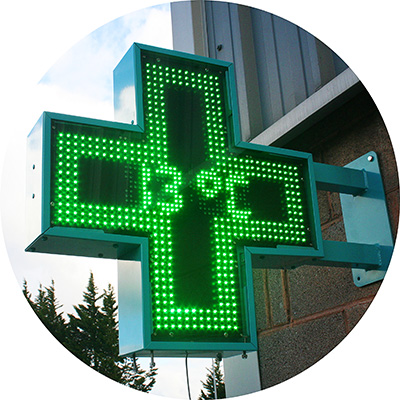 High impact, super-bright and vivid, our Pharmacross LED Pharmacy cross sign is simple to install and low maintenance.
Attract customers using a reliable, quality sign that is representative of the service you provide. We take the hassle out of choosing and maintaining a pharmacy cross to enable retailers to focus on their core business.
---
Features Include:
IR Remote handset control
Animated Border
Time – Temperature Display
Robust Design
Automatic day / night sensor for energy saving
---
Simple Installation
Pharmacross is an out of the box solution that can be installed easily and quickly. No software, no computers, no cables – the plug and play installation saves you time and is excellent value for money.
Low Maintenance
Controlled via a custom built infrared user handset, our LED pharmacy cross sign does not require the use of additional software to update or edit the content and display.
Durable & Reliable
Our signs are built with only the highest quality components and materials. Enclosed in powder coated aluminium and completely water proof our LED solution is designed to last and requires minimum support and maintenance.
---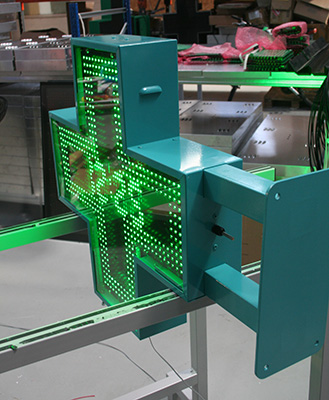 Stand-Out Design
Available as a double-sided or single-sided sign, with the option to customise the outer colour,  Pharma600 suits all storefronts and locations. High contrast, sleek and dynamic, our LED pharmacy cross sign solution will ensure you stand out in busy, competitive areas.
600 Series Specifications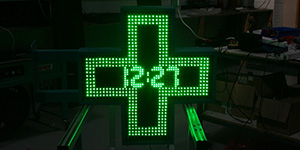 Display Area: 600mm x 600mm
Frame size: 640mm x 845mm
Distance of readability: 35 metres
Optimum viewing angle white: 30° x 70°
Maximum power consumption: 90W
Average power consumption: 35W
Border Colour Options: Green, Blue
Display Colour Options: Green, Blue, Red, Amber, White